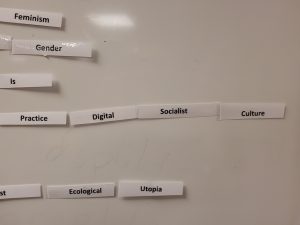 Kitchen magnet style DIY slogan workshop.
The title of the talk referenced a main issue with how to conceive of a communist society in relation to ecological critiques, even while retaining some of the hope inspired by the slogan Fully Automated Luxury Communism.
Discussion prompts:
How do you, particularly in a political group or movement, see the role of expertise? Is it good to foster broad knowledge among many members, or should you instead foster specialists (like graphic designers or fighters)? Can all forms of knowledge actually be held by everyone? When (if ever) does it become a problem?
In a given political group or movement, or any other collective such as at in a workplace, how does technical expertise structure it? Who becomes central? Who loses in influence? Can anything be done about it?
Do you use activist digital platforms (like Riseup.net or Gatorna.info) or do you only/mainly use capitalist platforms (like Gmail or Facebook)? Why? Is it a problem, whether it's for you as a person or for a collective movement?
Would you like to share your social media accounts to connect with the people around you? Recommend a site or a tool for struggle?
How do you view the Corona passes that crop up everywhere in the world now. What is the situation with them where you are? Are they positive? Negative? Could they be remade into something better?
Why did you come to this conference?
In a group or movement, what communication tools do you use internally and externally? Does the use of these center some members and possibly marginalize others? Why? What can be done?
What do you think of reformist, or even liberal projects, such as the Right to Repair that tries to enforce laws onto companies to get rid of planned obsolescence (where f.ex a phone breaks after circa two years) and give the owner of the device the right to repair it?
Which digital tracks did you leave on your way to this conference?
How can we fight the development of police surveillance technologies like facial/body recognition cameras in demonstrations?
Name a moment when technological solutions in your life completely failed, whether it was mundane or dramatic.
What was the most interesting thing you heard at this conference?
Is the Kurdish liberation project limited by it's material circumstances such as lack of modern large-scale industry or anti-aircraft weapons? If so, what can be done?
What would you say in a flyer or campaign that tried to offer a vision for a positive future and a better life for all?
What skills or what knowledge should we gain if we hope to understand and affect the high-tech modern world?
How do we do antifascism online? The antifa movement is good at countering street Nazis, but what about fascist YouTubers or similar who seem quite difficult to tackle.
How do we together continue this work on technology after the conference? What would you like to do?
Are there strategical groups of workers we should try to organize with?
Pineapple on pizza?
What should we do in the struggle online? Build massive accounts on Instagram? Try to move into YouTube? Create our own digital spaces? What is lacking in what we do now?
Which everyday technologies do you do gender with? Think of things like makeup, weights at the gym, clothing. Does it take a lot of energy for you? Do you take pleasure in it?
Can we build a revolutionary research and development branch? What sort of things do we need to learn to overcome cops and bosses? How would we learn those things in a long term project?
Do you know which logistics of capitalism which supplies the area around you? How could those logistical networks be blocked?
Which massive polluters exist nearby where you are? How are they linked together with other companies and areas? What could be done about these?
What do you think of nuclear power?
The Coming Insurrection makes a point that war destroys social movements due to how militarization is connected to hierarchies. The role of weapons as a specific technology play a big role here. Warfare seems to be becoming both decentralized, like the Israeli, American or ISIS war machines suggest, but technologies that remain central to warfare like war planes require a great deal of hierarchal structure. Is war the doom for social movements today or do you envision the revolution as building the Red Army?
In a revolutionary situation, how would we get food?
Do you wish for a transhuman future with the capacity to modify our genes or develop our cyborgs selves into something beyond human?
Would you rather be a cyborg or a goddess?
In a given group or a movement, what technologies should you be good at to be considered to be a good activist? Think of the role of f.ex the baton or the fake Facebook account for antifascism, the people's kitchen for a local movement or the role of the newspaper for Trotskyite weirdoes. How do such technologies impact or structure a group or movement? Can that be changed?
Can you disrupt the nature/culture divide in your long-term political work? How can you theoretically and practically do so (if it is possible at all)?
With the rapid digitalization of money, how can we hope to avoid surveillance from the state in our spaces? Abolish digital money like Syndikalistiskt Forum in Gothenburg? Use BitCoin?!
The Marxist scholar Christian Fuchs suggests that we should call for a "wages for Facebook" since we as users of Facebook and other social media platforms do work by interacting, and our interactions becomes commodities to sell to marketing companies. Do you think this is a good idea?
What did you really not agree with that you heard today at the conference? Why?
What's something that you usually don't think of as technology but which very much is?
How do you use technological systems to avoid working at your job?
What do you think of primitivism?
What do you think about accelerationism?
Is the issue with technology just that it is in the wrong hands or being fettered by capitalism? Or are there also other issues with technology?
Will 3d-printing bring an end to capitalism?
Consider the geographical area where you live in, why does it look the way it does? What is the role of cars? How does capitalism play into where people live or move?
What technological tools does your enemies have at their disposal? Think about enemies concretely in terms of a campaign or a movement. How can these technologies be countered?
Are there some struggles in the tech sector where you are? What do these look like? Can we build relations to these or connect with them?