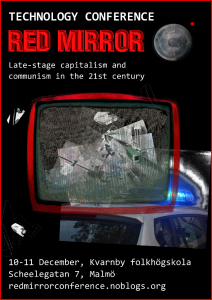 VAR
Vi kommer hålla vår konferens på Kvarnby Folkhögskola, Scheelegatan 7 i Malmö
NÄR
Vi kommer starta på fredag kväll kl 19, och på lördagen kommer vi hålla på mellan 10-17. Programmet kommer, men vi har redan flera fantastiska events på gång. Du vill inte missa det här.
ATT PRESENTERA
Är du intresserad av att hålla ett snack, visa en film, organisera ett möte eller göra vad det nu kan vara? Mejla oss! Deadline är 15:e november
SOVPLATSER
Behöver du sovplats? Mejla oss!
BOKBORD
Vill er grupp hålla ett bokbord? Hör av er på mejlen!
MAT & FIKA
Lunch kommer serveras den 11:e, och fika kommer serveras under hela helgen.
Email: redmirror@riseup.net
In English
WHERE
We will be holding our conference at Kvarnby Folkhögskola, Scheelegatan 7 in Malmö.
WHEN
We will start on Friday evening at 19 and then go from 10-17 on Saturday. The program is forthcoming, but already we have several very interesting events! You don't want to miss this.
PRESENTING
Are you interested in holding a talk, screening a film, organizing a meeting or doing whatever? Email us! Deadline for presentations is 15th of November.
SLEEPING ARRANGEMENTS
Do you need accomodations? Please email us as early as possible so we can arrange it for you.
BOOK TABLES
Do you or your group want to hold a book table? Please email us
FOOD & FIKA
There will be lunch served on the 11th of December, along with coffee, tea and so on during the entirety of the event.
Email: redmirror@riseup.net